Kondisi Barang :
Baru
Harga :
Lokasi Seller :
DKI Jakarta
Description :
Permisi gan, ane mau jualan lagi nih. Skr ane mau lepas mixer merk Behringer type Eurorack UB802. Kondisi mixer & adaptor aja, kondisi msh ok & siap kerja Harga udah laku).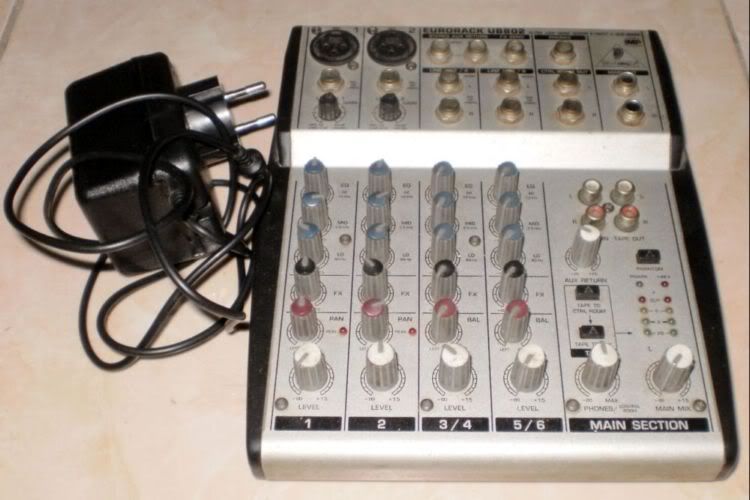 Spesifikasi:
EURORACK UB802
Ultra-Low Noise Design 8-Input 2-Bus Mixer
* Ultra-Low Noise ULN design, highest possible headroom, ultra-transparent audio
* 2 new state-of-the-art, studio-grade IMP "Invisible" Mic Preamp with:
* - 130 dB dynamic range for 24-bit, 192 kHz sampling rate inputs
* - Ultra-wide 60 dB gain range
* - Lowest possible distortion 0.0007% (20 Hz – 20 kHz)
* Effective, extremely musical 3-band EQ on all channels
* 6 balanced high-headroom Line inputs
* State-of-the-art 4580 operational amplifiers provide lowest noise and distortion—better than 4560 op amps
* One post fader FX send per channel for external FX devices
* One stereo Aux return for FX applications or as separate stereo input
* Peak LEDs on all mono channels
* Main mix outputs plus separate Control room, Headphone and stereo Tape outputs
* Tape inputs assignable to Main mix or Control room/Headphone outputs
* Switchable +48 V phantom power for condenser microphones
* High-quality sealed rotary controls for long-term reliability
* External power supply for noise-free audio and superior transient response
* High-quality components and exceptionally rugged construction ensure long life
* Conceived and designed by BEHRINGER Germany
Oke gan langsung aje klo ente2 minat: hubungi ane di Slipi Jak-Bar Telp: 021-99482557 or 08128456517.